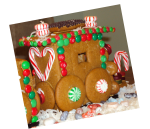 The construction of the fourth annual Gingerbread Train was completed in the Osborne house recently. The picture on the left is a preview of our 2009 caboose.  Trains are a big deal in a house full of little boys and our house is no exception. This year we built a gingerbread train from the same Familyfun Magazine template that we began with in 2006 plus some slight modifications. We added a second coal car. We filled one with milk chocolate rocks and the other was filled with foil covered chocolate coins. The foil on the coins is the only thing on this year's train that is not eatable. As our three boys grow a little older we are looking forward to their own designs and decorating ideas. Below will give you a look at the past three years of gingerbread trains.
2009 Gingerbread Train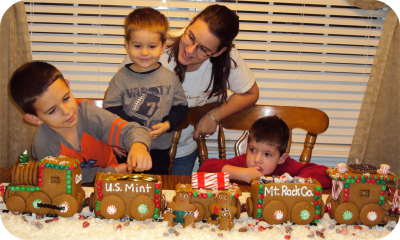 2008 Gingerbread Train
2007 Gingerbread Train
2006 Gingerbread Train
Stay tuned for more Gingerbread Train photos from our 2009 Gingerbread Train.
We hope you have enjoyed our trains. Have a Merry CHRISTmas!!!
Subscribe to our RSS feed