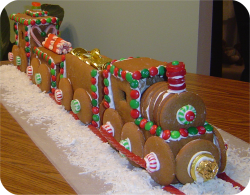 Our family embarked on a new challenge this Christmas season. We constructed our first gingerbread masterpiece. There are a ton of people doing gingerbread houses. Houses are great, but it is the trains that excite our boys. My wife found the detailed plans for this gingerbread train in Familyfun Magazine. <<< The link has been updated to the new Spoonful.com site that contains the recipe for the gingerbread and the icing. They also not include the train pattern template PDF.
UPDATE: We plan to do it again. We hope to build a bigger and better train this year. See our 2012 Gingerbread Train on DaddyLife.net.
Below are the results of our first attempt at following the FamilyFun plan for building a train. I will provide pictures that tells the story much better than my words. You can click on any of the images for a larger copy.
Get all the right stuff first!
Find a professional rolling pin operator.
Cut out the dough using the printable templates from FamilyFun.com. We used card stock for durability.
Gingerbread Dough Ready for the Oven
Gingerbread Dough after the Oven
Trim the gingerbread dough while it is warm.
Here Riley is using frosting to glue together graham crackers that were used for edible support.
Always use a professional decorating team.
Make sure the decorating team has some fun.
Applying the finishing touches to the Gingerbread Train.
The finished product.
A close up of the train cars.
A last look at our version of the Gingerbread Train.
We spent a total of three days building this train. That was two weekend afternoons of dough preparation and baking. We then spent about three hours on a Monday evening assembling and decorating the train.
Oh…We have been asked several times already about the snow. The snow is just a dusting of coconut shavings.
You can see another picture of this train on my main blog The Land of Ozz. If you would rather build a gingerbread house then you need to check out Simply Recipes: How to Make a Gingerbread House.
UPDATE: View gingerbread trains from other years.
Subscribe to our RSS feed